It is pretty interesting what a circle of people can accomplish when they are focused on what's-in-the center—all staring at the same mid-point, but each from an ever-so-slightly different perspective.
That is the beauty of round. The nucleus remains the same, but we each view it from our unique (and sometimes changing) vantage point, destined by own particular experience, interest, background, need, vision, bias, or myopia. What we see may generally be the same, but not exact, and could also offer valuable insights as a result of seeing the same thing that others do, but just a few degrees away.
Our community of entrepreneurs spreads wide across that circle, with hundreds of people bringing diverse background and interests, yet all focused on… 
Innovation, problem solving, disruptively finding a better way to do things, all experiencing the sweat and joy of invention, and many hoping to reap future rewards nudged on by their innovation and daring.
So diverse is our own entrepreneurial Roundtable: People who are grizzled serial entrepreneurs who may have had a dozen career adventures before. entrepreneurs who may have had a dozen career adventures before. Recent grads, a generation or more younger, about to launch a first idea.
Techies wired for complex challenges and who view the world with precision, right alongside savvy business-types who know how manage and market a successful idea.
There are those who proclaim themselves as free-thinking "creatives" and others who are steely-nerved and never flummoxed by unprecedented trial.
Some who prefer to lead and see the big picture and others whose talents are best served by unflappably unraveling the complexities that the rest of us cannot. And everything in between.
Today with virtual conduits for communication and cooperation, our communities include those from a block away or halfway around our globe.
Unlike the way of the more traditional world, it seems not age or even experience that defines relationships and hierarchies—it is the value of the perspective that each brings. It is the way puzzle-shaped pieces fit. I see companies with one partner who is 70 and another barely of drinking age. There are partnerships that marry technical and business skills. Effective teams, it seems, are often best build atop distinctly different dexterities. Players view the same nucleus — but are distinctively muscled with the attributes (and burdened by the baggage) of their backgrounds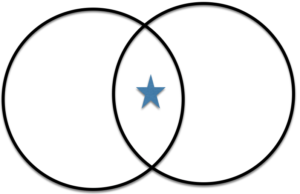 Often two or more circles will overlap, with a common (yet displaced) center of attention that addresses common interests, but a different way of thinking about it. That new focus is generally greater than the proverbial sum-of-its-part. Yea again for the venerated circle.
Our Global Entrepreneurial Roundtable has recognized and tapped the power of the circle. We share line-of-site to common interests and challenges.
That is why so many problems we thought unique to us are common to people with vastly different interests. Others may have been there and have answers.
Being part of a circle means we are connected.
But keep in mind, our world, especially in our innovation cosmos, is not two-dimensional.
 So perhaps our self-descriptor as a "Round" table is a tad limiting. While I do not think there is a term "Sphere-table," maybe that would more accurately describe what we are, since we represent so many other dimensions that define our place around a common goal.
They say that the circle is one of the strongest and most durable structures there is. As we travel onward through our innovation universe, let's continue to harness the power of round.
© Copyright 2021. Chuck Goldstone | Strategies and Stories. All Rights Reserved
Chuck's Global Entrepreneurial Roundtable is an international network of entrepreneurs, innovators, founder and funders, inventors and investors, mentors and mentees, opportunity providers and opportunity seekers. We are a worldwide sphere of people who meet to share ideas, connect, collaborate, and harness the power of serendipity. To date, our Roundtable community has celebrated over 4000 connections, collaborations, referrals, funding and job leads, partnerships, and new friendships.
Currently, a group meets weekly, at this point WEDNESDAY AT 1:00 ET (GMT-4) You can apply for free membership by registering for a session at www.chucksroundtable.com or by contacting Chuck Goldstone at chuck@chuckgoldstone.com.